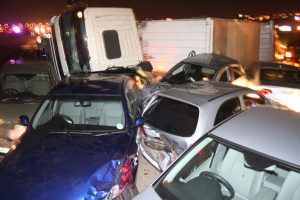 At approximately 18h29 on Sunday night 17 May 2009, Netcare 911 paramedics responded to reports of a very serious collision involving multiple vehicles on the N1 direction towards Pretoria close to the 14th avenue exit in Roodepoort.
Paramedics arrived to find that a large truck with two trailers which were fully packed with cooking oil had overturned and was lying on its side over the entire width of the freeway. This resulted in a massive pile up that seems to have involved eighteen light vehicles (cars and bakkies) and two trucks.
Paramedics attended to approximately 40 people from these vehicles but fewer patients were transported to hospital by various ambulances and the final number of actual injured people that were removed from the scene was approximately twelve. Several patients sustained serious injuries but there were no critical patients. At this stage there does not seem to have been any fatalities although two vehicles including an Audi and a bakkie are almost completely under the truck.
Many motorists had to climb out of their windows as they could not open their doors because of how the cars had been compacted together. It is suspected that a few thousand litres of oil was spilt on the highway and this incident is expected to take several hours to clear.
Unfortunately many civilians heard about the massive oil spill and risked their lives by running across the opposite side of the highway to try and salvage some of the unbroken bottles of oil.
This incident was attended to by paramedics from the private and provincial ambulance services, fire department and the Metro Police.
Photo: The cab of the truck lies on top of an Audi and numerous cars were crashed up against each other.
Nick Dollman
mobilemedia
Netcare 911