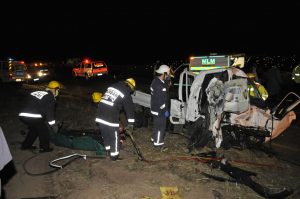 This morning at around 04h30 Netcare 911, fire and the provincial ambulance services rushed to the scene of a horrific accident on the Mpumalanga road in Hammersdale where a truck and a bus had collided head-on. Tragically 5 people lost there lives due to the severity of there injuries and paramedics and fireman battled for more than an hour to cut them free from the accident.
Two of these tragic deaths were children aged around 13 years. A further 2 passengers were injured in the accident, one critically and another is in a serious condition. They were both transported to the R.K. Khan hospital by the provincial ambulance services.
SAPS collusion unit from Pietermaritzburg investigated the scene.
Chris Botha
KZN Media
Netcare 911