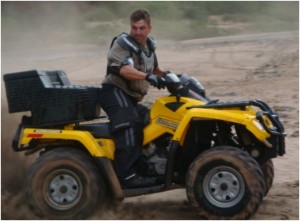 Earlier this morning the Arrive Alive website received a request for assistance from a UK citizen. We would like to share this request:
"Subject: Quad Bikes road legal?
Message: After much searching I am unable to find the rules governing quad bikes in South Africa.
I am currently planning a Trans Africa trip with a UK registered road legal Quad bike.
I have established I can legally drive in all countries but have yet to find my position as to the law in South Africa.
If possible can you point me in the right direction as to the laws.
Regards
Chris"
This question has previously also been answered by the experts on the Arrive Alive website.
The Answer is:
In terms of the NRTA (Act 93 of 1996 as amended), a quadrucycle is referred to as: "motor quadrucycle" which means a motor vehicle, other than a tractor, which has four wheels and which is designed to be driven by the type of controls usually fitted to a motor cycle.
All motor vehicles are liable for registration (Regulation 3) and licensing(Regulation 18) apart from those exempted under Regulation 5 (long list). Quadrucycles are not amongst this list. The MEC may charge a "flat rate" for vehicles not used on "a public road".
Crossing a road / driving down a road (less than 1 km) is seen as not using a private road. The shoulder of a road (gravel section) is still part of a public road.
Quads were not designed for "normal" transport on roads – so all the necessary requirements will have to be met (lighting, mirrors, brakes, tyres, reflectors) before it can be registered for public road usage.
Also view: