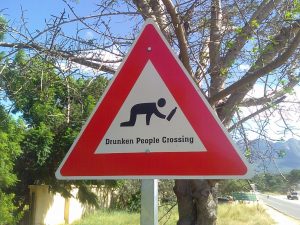 Every now and then the Arrive Alive website will receive via email a photo of a funny incident or a rather fascinating road sign. Yesterday afternoon we received a photo of a road traffic sign from a friend at the RTMC. This sign can be found in the Lydenburg area – and I have often seen this as a design on the T-shirts of students!
But does this actually happen or is it merely a "tongue in cheek" warning? I have come across a photo that provides confirmation that this is indeed a risk!! [This guy is even crawling in the same direction as the character on the traffic sign!!]
We would like to urge all road users to be alert to the dangers of excessive drinking. If you do –stay away from the road!
Also view:
• Road Traffic Signs of South Africa