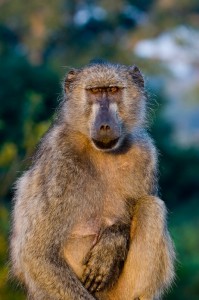 Two tourists on honeymoon in Cape Town have been robbed by a baboon. Guy Moar of Australia and his wife, Fumiko Yamakazi of Japan, were "hijacked" by the baboon at Cape Point on Sunday.
The baboon opened the back door of their car and climbed into the vehicle.
"He took my wife's handbag, opened it and rummaged through it, just like a person," said Moar.
The baboon eventually decided her cellphone was the only item worth stealing and jumped out of the car with the phone in his hand. He ran off but the crime victims managed to secure some evidence of their ordeal. The couple took a photo of the culprit sitting lazily on a nearby rock, chewing on his loot.
[ No further legal action is expected!]
Also view: