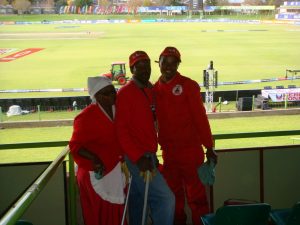 I regard myself as privileged today! Privileged to:
• Enjoy a stunning day in Bloemfontein
• Attend an IPLT20 cricket match from a hospitality suite
• Interact with other ordinary citizens whilst working from my laptop on Road Safety
• Experience the optimism and friendly faces of South Africans busy cleaning facilities for a major international sporting event!
I firmly believe that the success of 2010 will be determined by ordinary people -people who clean stadiums, transport tourists, carry luggage etc.
I have been invited to attend the cricket this afternoon in Bloemfontein – and have gone to the stadium a bit early to do some work from my laptop.
I am convinced, experiencing the buzz, noise, activity all around that this will be an amazing event – and something that will once more tell us all that 2010 is going to be a massive success – and more and more South Africans are going to start sharing the optimism around South Africa not only as an excellent tourism and sporting host – but truly a Nation to be proud of!
For the next few hours I will share this dream, not think of horrific accident fatalities – but only be a Proud South African!!