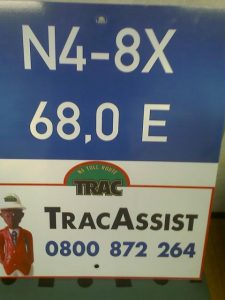 What are those strange looking signs every few hundred metres to the side of the road? Travelling between Bloemfontein and Johannesburg [and in fact all national roads] you will find these small signs next to the road.
Few road users are aware of the significance of these markings – and that they can provide important assistance when in distress.
On the N4 road from Pretoria to Mozambique these are much bigger and more visible – so we approached TRAC N4 to interpret these signs for us.
What the road users needs to know:
• The kilometre marker is not a legislated obligation but is a SANRAL standard on all national roads. [SANRAL is the South African National Roads Agency]
• A specific format is followed with regards to the actual markers (not size etc of signage).
• On the N4 Toll Route (Pretoria to Maputo) kilometre markers are placed at 200m intervals and the markers with the TRACassist number are placed at 2km intervals
• Standard kilometre marker boards are used along that section of the road.
What does the info mean?
N4 = road/route on which you are travelling i.e. N4
8X = indicates the section of the N4 route on which you are travelling i.e. 8X
68,0 = indicates the kilometre position on the route section
E = indicates the direction in which you are travelling in i.e. EAST
TRACassist number = the emergency number to call for any type of emergency or roadside assistance on the N4 Toll Route (between Pretoria and Komatipoort)
These signs are of significant importance to the road users. The road users should know that in case of emergency he would be able to pinpoint his location to emergency services by providing the detail on the marking closest to him. He should be able to find this information by merely moving 100 metres to his left or right.
Also view: