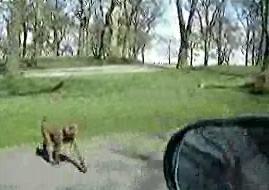 Click on the image to view the video
On the Arrive Alive website we have added many pages of content on safe driving. One of these aspects is the need to avoid distractions while driving.
In South Africa a rather unique distraction is the roadside distraction posed by animals. A visitor to the Arrive Alive website sent an email of something we could not resist sharing!
View this video and remember – However funny or strange something might appear – keep your eyes on the road – stay alert and stay alive!!
Also view: