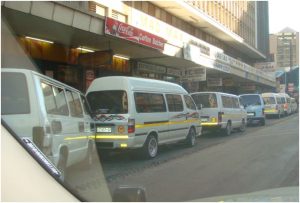 Panel vans converted to "killer taxis" must be declared unlawful, the National Regulator for Compulsory Specifications (NRCS) said on Friday.
"It is time for the regulator to crack a whip," NRCS acting chief executive Moses Moeletsi told a media briefing in Pretoria.
He said the NRCS had requested an urgent meeting with the transport department to prioritise the fast-tracking of a law making conversions that did not meet specifications illegal.
"There is a time bomb about to explode out there. Some of the taxis that are on the street are posing a major threat to the well-being of South Africans," he said.
Routine inspections had found that once converted into taxis, the vehicles no longer met the requirements and specifications.
So far about three companies that did the conversions had been identified in Durban and Cape Town.
The regulator would also be clamping down on some Chinese imported vehicles which did not meet South African standards.
"What has been approved is not what is in the market-place."
The vehicles were the x-S [double and single cabs] and the Hafei Loda.
Since February about 250 of these models had been sold. It was discovered that the rear fog lamps and side indicators fitted on the mirrors did not comply with the relevant requirements.
The fuel filler inlet also failed to comply with dimensional requirements.
Moeletsi said a non-compliance notification had been issued and if the corrections were not made or the vehicles continued to be sold, the regulator would have no choice but to legally recall them.
"As the regulator we are sending a strong message to the automotive industry that we will not condone or turn a blind eye to that."
[Story from SAPA appeared in The Times]
Also view: