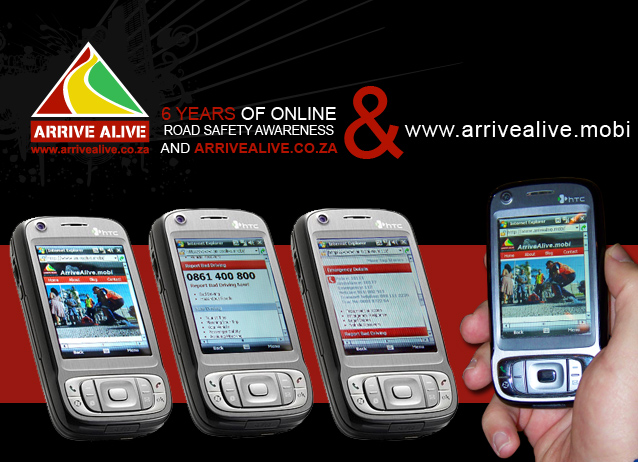 We have found an important announcement on the Arrive Alive road safety website about the launch of the newly designed Arrive Alive.mobi website. We would like to share this with our visitors:
"A newly designed mobile road safety website has been made available at arrivealive.mobi. The construction of the mobile website has been inspired by the efforts worldwide to promote road safety and public awareness. The power of the internet as an educational tool cannot be disputed and the creation of a high quality mobile information portal will compliment the sterling work that has been done by the Ministry of Transport to date.
In the State of the Nation address, President Zuma emphasized that rural communities should not be left behind in broadband and communication initiatives. We believe that many of our road users who might not enjoy internet access from personal computers – will indeed benefit from the access to road safety information made available via the mobi site on their cellular phones!
It is the vision of the developers to construct an accessible and effective road safety information portal to assist road users in arriving at their destinations safely!
This vision is accomplished through a process of information collection from many institutional and private contributors, and the assignment of the relevant information to specific accessible and educational units on the mobile website.
A special focus is placed on the information that the road user in distress would like to have access to. Emergency numbers are displayed prominently.
Even though the focus is on road safety in South Africa it is our vision that the mobile web site arrivealive.mobi will also benefit visitors from other countries worldwide – and especially other road safety initiatives and campaigns in Africa!
As we head towards 2010 and are experiencing an inflow of foreign visitors and sports enthusiasts, we have also focused on information such as "tourist tips" and "car rental" to assist our foreign visitors on the road!
The developers accept that no one entity has all the knowledge and that knowledge can only be shared through the unselfish contributions from people with expertise in a wide variety of fields.
The developers are dedicated to find the content required for the promotion of road safety and welcomes any recommendations and advice. Many other website developers have been and will be consulted and their efforts recognized."
We would like to invite all visitors to share their experiences and send us their input on how we can further improve the ArriveAlive.mobi website and assist all our road users!"
Visit arrivealive.mobi from your cellular phone!