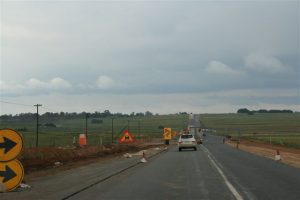 Due to construction along certain sections of the N4, road users may experience slow traffic conditions (bottle necks) during peak traffic periods. It is advisable, where possible, to travel out of peak periods.
 UPGRADING
Belfast to Wonderfontein
Construction is progressing at a rapid speed and nearing completion. Speed restrictions from 60-80km/h to 100km/h still apply along this section. Final completion is expected around August 2009.
Nelspruit's Northern Bypass (Ring Road)
Primary construction of the Nelspruit Northern Bypass is progressing well at three sites along the 19 kilometre section.
The route has been cleared through Hall's and Crocodile Estates farmland and earthworks and bridges are now being constructed at some intersections. There will be 25 bridges (excluding culverts) as every traversal of the main roads, Nel- and Crocodile rivers need to be spanned by a bridge.
The R660 million Ring Road is a three phase project. Each phase is expected to take 26 months to complete. The first section from Alkmaar to the Friedenheim Road has been awarded to engineering company WBHO, and the second section from Friedenheim Road to the Crocodile Valley to CMC Joint Venture. The final stage to Karino will be constructed by Rumdel.
The new N4 bypass will branch off at Mataffin (just east of Cairn, where the bridge over the railway line is currently under construction, skirt Riverside Mall, bridge the R40 and the Crocodile river and continue through to Karino where it will rejoin the N4 on the eastbound side.
On completion, the new road will ease traffic congestion through Nelspruit's central business district and the layout around Mataffin will provide easy access to the new Mbombela stadium.
Impact on road users
The initial phase will provide a single carriageway in both directions. At present work on the new road has little impact on N4 road users.
Temporary speed reduction signs have been erected. Beware of construction trucks:
 Nelspruit city
 Cairn
 Crocodile Valley
 Entering Nelspruit, just east of Halls Gateway
 Near construction of the Mbombela stadium access roads and the P166- road bridge over the N4 through town where a Stop/Go is in operation
 At the new Ilanga Mall construction site in Nelspruit (next to the N4, close to Mercure Inn)
 REHABILITATION
Matola-Maputo
Rehabilitation of this section of road is planned to commence during July/August 2009. Work will take 4 months to complete. During this time traffic delays will be experienced.
Montrose – Nelspruit
This section of road will be rehabilitated. Work to commence early 2010. The road will also be repainted to provide more traffic capacity.
Sappi area
Rehabilitation work and an asphalt overlay are planned for the section of road near the Sappi plant in Ngodwana. Work expected to commence late this year, or early next year.
 MAINTENANCE
Middelburg to Wonderfontein
Construction teams will be busy with repairs to the gravel shoulder.
Schoemanskloof (De Beers Nek – N4-6Y 20.0 East)
Repairs to the concrete wall (damaged by a rock slide) is complete. As soon as the concrete has cured, backfilling and construction of a gabion wall (wire mesh baskets filled with rocks) behind the concrete wall will commence. It is expected that work can start from middle of June 2009.
Grass cutting
Contractors are currently busy with the full winter cut along various sections of the road.