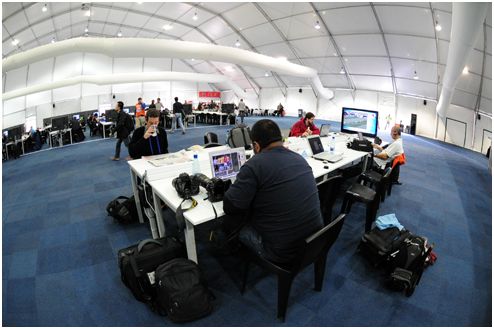 On this Friday I love sharing some positive news! Positive news about South Africa, our sports supporters and our readiness to host the World Cup 2010!
I enjoyed a cup of coffee earlier this morning with Gerhard Steenkamp, one of the top South African sports photographers and battered him with questions on his experience at the Confederations Cup!
Gerhard pointed me to his Blog and some of the photos taken of the media facilities in Bloemfontein. I would like to quote from this:
"The media centre is something out of this world with working space galore and Wi Fi at 54MBS. I eventually sort out my wireless after targeting Jeremia the IT consultant on duty. Wired networking if you want is available and lots of power points and plus minus 40 plasma screens working overtime. Oh yes and a restaurant with burgers, cool drinks and lots of other snacks.
The image is of the media centre where +- 2000 images, according to stats by the IT department, get send after each match."
Gerhard was not only impressed with the media facilities – but also commented positively on the atmosphere in the Free State Stadium! He informed me that international journalists and commentators were in praise of the active participation of the supporters at the game – a BIG thumbs up to Bloemfontein!!
Visit the Blog and Superimage Media website to view photos from the recent games in Bloemfontein.
Also view the Arrive Alive website for info on:
• Spectator Survival Guide for Safety on the Road to Sports Stadiums