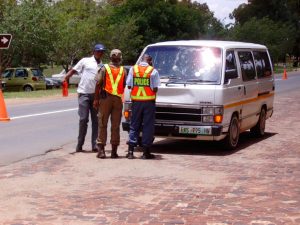 I must admit to being rather annoyed at reading the latest protest action from taxi drivers! Yesterday I wrote a story about the BRT system which will be kept on hold after demands from taxi associations. I even added a link to an excellent article from a columnist adding some perspective from the side of the Taxi owners and drivers.
This morning I found a story published in The Star titled "Taxi drivers want end to car pools". To summarize this story, let me share a few notes:
• Residents in Diepsloot who want to use their cars in lift clubs have to get permission from the local taxi association.
• If they don't, their passengers risk being yanked out of the car and forced to take a taxi.
• Taxi drivers claim that they paid for the route forms, but the private cars load people for free.
• Taxi drivers claim that if motorists wanted to transport people legitimately, they should have a signed agreement with the taxi association.
• The Metro Police said that people could choose what kind of transport they wanted to make use of.
Whilst these taxi operators are protesting and threatening South Africans we battle to find solutions to traffic congestion and try to convince South Africans to implement ridesharing and carpooling. This was one of the main features of Transport Month 2006.
On the Arrive Alive website we made available information on this subject. I would like to quote:
What is ridesharing / carpooling?
It is a way of people sharing their cars with others who are traveling in the same direction. Commuters that live near each other and share a common destination can travel together in one vehicle and form the simplest and most common "carpool" arrangement. Carpooling is an ideal cost saving arrangement, particularly for those individuals who commute long distances to and from work each day, have limited access to public transit and few transportation options available to them.
Types of carpools
• Designated Driver Carpool
This carpool generally has one driver and one or more passengers. The driver provides the vehicle and passengers pay a daily, weekly or monthly fare based on expenses such as petrol, maintenance and parking.
• Alternating Carpool
Enjoy the simplicity of a carpool in which driving is alternated on a daily, weekly, or monthly basis. Costs are incurred only during the period in which you are required to drive. Or, put simply — when you drive you pay, when you ride it's free.
• Employer Carpool
Some employers encourage employees to share the ride to and from work by allowing the use of company vehicles. Employees pay a fare to offset additional petrol, maintenance and insurance costs. As most company vehicles sit idle in parking lots after business hours this system can benefit both employers and employees. Employers can save their parking for paying customers while demonstrating their environmental responsibility and employees can save money.
Carpooling is not only flexible and economical but also helps reduce air pollution, traffic congestion and consumption of non-renewable energy resources.
Do these taxi drivers believe that only they are allowed to transport passengers? Are we going to be threatened every time that the option of another mode of transport is suggested? Whilst the transport authorities and citizens of South Africa are threatened we are receiving hundreds of reports of bad driving by taxi drivers.
Perhaps it is time for transport authorities to take a strong stance and tell taxi operators that even though their significant contribution to the economy is recognized – there are other modes of transport that should be allowed to compete in a free economy and provide safe reliable transport to all South Africans!
Also view: