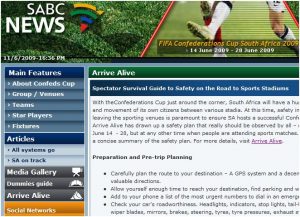 The Arrive Alive website would like to share the Media Statement by Minister Ndebele on effective transport for FIFA Confederations Cup:
Transport Minister Sibusiso Ndebele is confident that plans put in place will ensure that South Africa's transportation system is effective during the upcoming FIFA Confederations Cup.
"With preparations for the FIFA Confederations Cup, which will kick-off on 14 June and held in Johannesburg, Tshwane, Bloemfontein and Rustenburg, we have been working hard in conjunction with provincial and local government towards ensuring that this dry-run for the 2010 FIFA World Cup is successful. These preparations include infrastructure development at airports, roads, the rail sector as well as road traffic management, reduction in road crashes and, indeed, other transport priorities.
"To this end, on the Bus Rapid Transit System, I have been briefed on the matter and have met with the political leadership and teams of the BRT implementing cities of Johannesburg, Tshwane, Cape Town and Nelson Mandela Bay to discuss government's further consultation with the taxi industry to which both President Zuma and myself are committed.
"I held an introductory courtesy meeting with the South African National Taxi Council on 22 May and another meeting is scheduled for June 8.
"Meetings with all other transport stakeholders have also been planned so that the BRT programme and our country's transport strategic programme will eventually be implemented in a way that is inclusive of all relevant stakeholders. One of our major priorities is to ensure the alignment of our transport programme to the five government priorities.
The Department of Transport has also been tasked to ensure faster progress in the implementation of the rural transport strategy as well as the Expanded Public Works Programme rural access roads, the public transport strategy, the acceleration of the 2010 transport plan as well as the transport infrastructure programme.
"We are also pleased to report that, as announced by South African Civil Aviation Authority (SACAA) Chief Executive Officer, Captain Colin Jordaan, yesterday (27 May 2009), the aviation industry, particularly the SACAA and its associated organisations, were ready for the 14 June kick-off.
"Most supporters and soccer players will arrive in the country by air and this mode of transport will feature prominently in the movement of people across the country. As a result, there will be higher air traffic volumes in and around the venues where the games are set to take place.
"Sufficient measures have been put in place to handle the increased activity due to the partnership between SACCA, the Transport Department, Air Traffic and Navigation Services (ATNS), SA Police Services and South African Air Force (SAAF). The final exercises to test the readiness of the countrys major airports will take place next week.
"We are confident that an effective transport system will be in place during the Confederations Cup," said Minister Ndebele.
Also view: