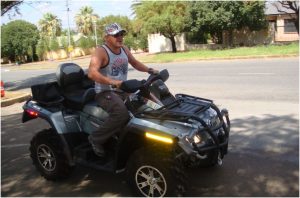 The Arrive Alive website received the following request for assistance:
"Message:
Good day
I am currently in the process of purchasing quad bikes for use at work. They will not travel on any public roads, and will just be used on the company premises and I would like to enquire as to the legal implications that apply to their use if any.
Regards"
We answered this with reference to an answer from our experts. This is best answered with reference to the National Road Traffic Act:
"In terms of the NRTA (Act 93 of 1996 as amended), a quadrucycle is referred to as: "motor quadrucycle" which means a motor vehicle, other than a tractor, which has four wheels and which is designed to be driven by the type of controls usually fitted to a motor cycle. All motor vehicles are liable for registration (Regulation 3) and licensing(Regulation 18) apart from those exempted under Regulation 5 (long list). Quadrucycles are not amongst this list.
The MEC may charge a "flat rate" for vehicles not used on "a public road". Crossing a road / driving down a road (less than 1 km) is seen as not using a private road. The shoulder of a road (gravel section) is still part of a public road. Quads were not designed for "normal" transport on roads – so all the necessary requirements will have to be met (lighting, mirrors, brakes, tyres, reflectors) before it can be registered for public road usage.
Also view: