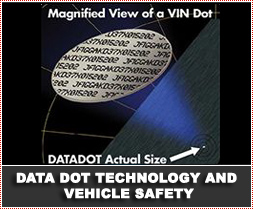 Technology has a significant impact on vehicle safety. Not only does it allow for safer vehicle design and safety features – but it also provides fleet management and other tools to allow for careful monitoring of driving behaviour. But could we use technology to protect the driver and occupants from vehicle theft and hijacking as well?
Data Dot technology is a simple and effective theft deterrent system. Data Dots, which are smaller than a grain of sand, hold identifying information that links the merchandise to its original owner. Data Dots are tiny polyester particles that are inscribed with unique information. Each microdot is no larger than 1mm in diameter. Thousands of these microdots are applied to a motor vehicle using a special adhesive. The information etched onto the microdots relates exclusively to the identity of your vehicle. The water-based adhesive used has UV additives providing easy identification of sprayed areas. The microdots are sprayed onto a minimum of 80 sites within the vehicle, making it difficult for would-be thieves to alter the car's identity.
Based on the reliable identification of a vehicles key component parts, the vehicle is of reduced value to a professional thief. They are only interested in vehicles where they can easily change their identity or strip for parts. By reducing the value of the vehicle to thieves, it enhances the safety of the occupants making this deterrent a priceless benefit. It is important to keep in mind that the Data Dot system is not a tracking device. This system can be described as being active at all times in deterring thieves. A sticker indicating that your vehicle is protected by Data Dot is highly visible to would be thieves.
As more thieves are becoming aware of the Data Dot System we could expect that motorists might have less of a threat of hijacking and vehicle theft! This system could be used in tandem with other vehicle tracking systems to provide vehicle owners with more protection!
Also view on the Car Insurance Blog: