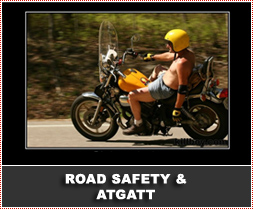 The Arrive Alive website received the following interesting enquiry:
"Please could someone assist me, I need to know are there rules for a biker to wear the correct gear and if not are there consequences or maybe a fine?"
We referred this to the Road Safety Experts and promptly received a response:
"The only reference I could find was regulation 207 in the Road Traffic Regulation that requires the compulsory wearing of protective helmet. The driver and passenger(s) shall wear a helmet that is designed for use with such cycle and that fits the person properly and is properly fastened under the chin.
There is an exemption for cycles where seatbelts anchorages are fitted that comply with SABS standard and where the engine cannot move unless the drivers and passengers wear their seatbelts.
Other than that I cannot find any reference to other compulsory gear, but I look forward to further feedback."
Even though there might not be a legal requirement for other protective gear – it is important to be aware of the importance of this often lifesaving measure!
The biking community and Think Bike has adopted the principle of ATGATT – All The Gear All The Time!
Visit the Arrive Alive Road Safety website for more info on: