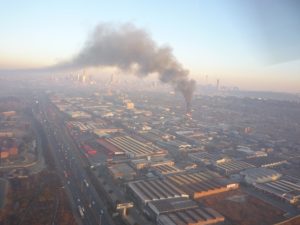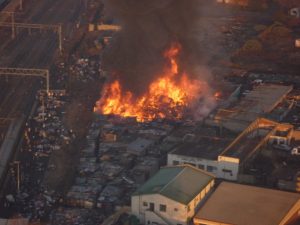 Around 7am this morning whilst on traffic patrol in the sky above Johannesburg, the crew of the Netcare Four helicopter investigated the large plume of smoke in Johannesburg that was clearly visible from the Grand Central airport in Midrand upon take off.
The attached photographs clearly show the magnitude of the fire in the settelment. Many of the residents managed to salvage their few possessions and they were standing in the road watching helplessly as the fire swept across the settelment between the factories and the railway tracks in Jeppestown South not far from Benrose, south of the Johannesburg CBD. The fire consumed all in its path while fighters battled to bring it under control.
Emergency services from City of Johannesburg were already attending to the incident at the time of the photographs.
It is not clear if anybody was injured in the incident or how many will be left homeless by the fire.