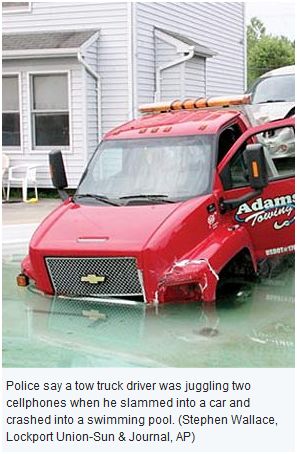 Police say a tow truck driver was texting on one cellphone while talking on another when he slammed into a car and crashed into a swimming pool.
Niagara County sheriff's deputies say 25-year-old Nicholas Sparks admitted he was texting and talking when his flatbed truck hit the car on Wednesday morning in Lockport, which is outside Buffalo.
The truck then crashed through a fence and sideswiped a house before rolling into a pool.
Police say the 68-year-old woman driving the car suffered head injuries and was in good condition. Her 8-year-old niece suffered minor injuries.
Sparks was charged with reckless driving, talking on a cellphone and following too closely. It couldn't be determined on Thursday whether he has a lawyer.
– AP