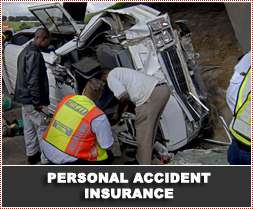 Nobody will deny that we are experiencing challenging economical times. Many companies are cutting down on expenses and on loss-making divisions of businesses. This also leads to lay-offs and many are left with no option but trying to make a living through their own little businesses.
At the bigger companies many of the employees benefit from pension funds where they have a comprehensive group risk scheme to provide life and disability cover.
Despite having a "continuation option" many of the employees leaving employment neglect to continue with their life and disability cover. This places their loves ones in a precarious position. It is only later that they realize that they need to provide financial protection and security – and at this stage their existing medical condition and age might lead to rather expensive premiums.
One of the options they might consider is cover under a "personal accident insurance policy". For such a policy it would not be required to go for a medical examination- and premiums might be calculated based on age, sex and occupation. This will provide a lump sum in the event of accidental death or disability.
With road accidents being a constant threat to South Africans, and the recent changes under the Road Accident Fund, it would only be logical that we might find more and more people opting for a personal accident insurance policy…
On the Arrive Alive website we have made available a section titled. We would like to advise road users to do more research and gain a better understanding of these insurance products:
• Road Accidents and Personal Accident Insurance and Benefits
For more on Car Insurance view the Car Insurance and Road Safety Blog