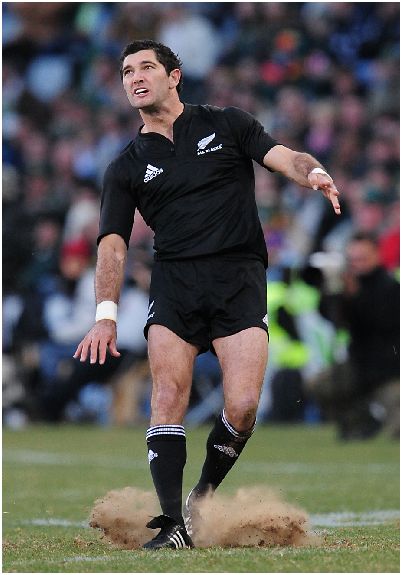 I am overjoyed at another Springbok Victory! This Blog post is not an analysis of the game yesterday – but only of one specific moment in the game which fascinated me. I would like to refer to the moment when the All Blacks scored their last penalty – and I would like to refer to the stop of play on 60 minutes and 50 seconds of the match time displayed on television. This was a moment missed by both commentators, the referee and assistant referees.
At this moment in the match Johan Smit ends on the wrong side of the ruck and the referee blows the whistle. Smit politely apologises and is penalized with a penalty about 4 metres from the halfway line in the middle of the pitch [ All Black half of the pitch]. Smit asks for a moment to talk to his players and during this stoppage the All Black flyhalf Donald is replaced with Luke McAlister who slots this massive penalty kick.
Was this a clever replacement by the All Blacks, knowing that McAlister has a better chance with a long range penalty attempt? As I interpret the law of the game you may replace a player during a stoppage/ break in play – but a penalty awarded does not constitute such a stoppage.
Rugby supporters and players are well aware of the phrase "play to the referee" – which means that you adapt your play to the way the referee interprets the laws of the game. This means that sometimes you can get away with some illegal play by treading on the line between what is legal and what is not…
But was the timing of the replacement a clever move – or can it be regarded as a dishonest move?! Is this part of playing to the referee?! What would the All Blacks say if we have Frans Steyn on the bench, only to bring him on as a replacement in the event of a long range penalty? Why did the assistance linesmen and referees not see what is going on and communicated this to the referee…
We could give the All Blacks the benefit of the doubt that McAlister was held back and was already on the side of the pitch waiting for the next stoppage. Replacements nowadays takes a bit of time and the assistant referees are given prior warning of a replacement being sent on the field. But how did our assistant referees miss this important tactical substitution? Perhaps this needs to be investigated as this could have far reaching consequences in a close game…or should we simply see this as an example of "winning is not everything..it is the only thing?!!"
[ View more photos taken by Gerhard Steenkamp at Superimage Media]
We would like to invite all our supporters to view the safety guide before they travel to the game:
• Spectator Survival Guide for Safety of the Road to the Sports Stadium