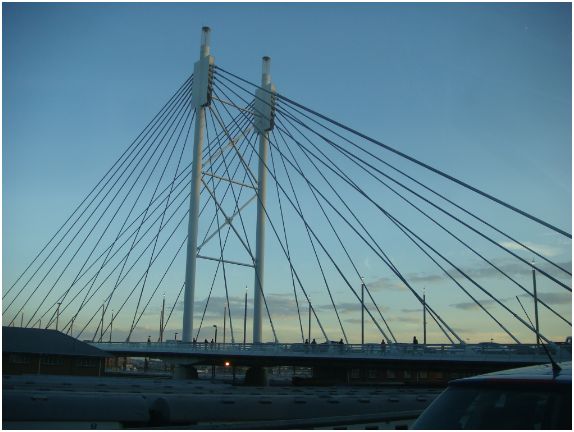 We the citizens of Joburg, attending the Public Transport Summit on 15th August 2009 at Nasrec Expo Centre hereby declare
1. That we collectively face:
• Long travel times;
• Increasing pace of urbanization and growth of the Joburg meaning that so many people need to get around our city;
• High cost of public transport;
• Unreliable public transport and lack of safe scholar transport;
• Lack of safety that commuters face especially women and at night;
• High levels of congestion which means that we spend long hours in traffic before we get to work and our children long times before they get to school as well as giving us less time with our families, to study, go to church and lead a health life style
• Air pollution due to carbon emissions from too many cars which can endanger the health of our children and jeopardize the health of future generations;
• Lack of functioning road infrastructure e.g. traffic signals that don't work and potholes; and
• Lack of accessibility for people with disabilities.
2. Acknowledging
• The visionary work done by the City of Joburg to transform public transport, and to construct and soon implement the Rea Vaya Bus Rapid Transit System
• The supportive role of the Gauteng Provincial Government towards the City's initiatives
• The role that National government has played in funding public transport improvements as part of leaving a legacy for the FIFA Soccer World Cup in 2010
• The important role of the mini-bus taxi industry in moving the majority of residents in the City of Joburg
• That all communities have a stake in public transport operations and the Rea Vaya BRT
3. Acknowledging in respect of the BRT
• Concerns about the safety of pedestrians who need to cross to the middle of the road
• Commuters fears about being caught in the middle between different groups in the taxi industry
• Fears from taxi operators about the new system
3. Further acknowledging the need:
• For strong, united visionary leadership on transport;
• To consult all Joburg residents on all facets of public transport projects;
• For a strong commuter voice
• For sound labour relations
• For a public transport partnership to create a world class public transport system and enable a strong and growing economy in Joburg
• To build our city along public transport corridors and nodes so that everyone can be within 500 metres of public transport
4. Therefore agrees to the following commitments:
• Safe, fast, convenient public transport
• Speedy implementation of Rea Vaya BRT on the set out dates
• All modes work together so that commuters can move easily between taxis, buses and rail
• Co-operation between modes of transport and managing the contradictions and possible conflict between modes
• Reduction in deaths on our roads and railways whether it is pedestrians, car uses or public transport passengers
• All vehicles who carry members of the public must be roadworthy and that corruption in vehicle and driver licensing must be dealt with
• Our transport values of honesty, accountability, co-operation, respect and ubuntu are adhered to by all our residents
5. And further resolves on the following actions going forward:
• To improve communication to ensure that all stakeholders support Rea Vaya BRT and to bring in all groups of the taxi industry
• To consistently provide information and knowledge to communities about public transport including the Rea Vaya BRT in the vernacular, on street posters, to schools, youth, elderly and people with disability, etc
• To extend BRT Rea Vaya operations to where public transport is most needed.
• To do everything possible to ensure that all local communities benefit from business and employment opportunities that arise from government investment in public transport
• To ensure that the new Rea Vaya BRT is safe including ensuring that:
• Drivers are well trained and plans are in place for ongoing maintenance; and
• Commuter associations work hand in hand with safety structures such as Community Police Forums so that people can move safely into the middle lane to catch the BRT as well as to and from stations or ranks.
• Storm water, informal traders are well managed so that the stations are accessible
• Accelerate an integrated payment and ticketing system and a more equitable public transport subsidy system which can benefit all operators
• To ensure road infrastructure including pavements and storm water are well looked after for pedestrian and cyclists safety.
• To look at measures to enable car users to use the Rea Vaya BRT system such as park n rides
• To support training of public transport drivers to ensure passenger safety as well as training in Batho Pele e.g. drivers to know basic sign language.
• To ensure that all our public transport facilities are clean, well maintained, safe and accessible to all including people with disabilities
• To strengthen the public transport stakeholder forum (working task team) managed by the Department of Transportation to focus on implementation
• All ward committees public transport representatives should be responsible for calling community meetings and ward based transport forums to address public transport problems and give inputs including on fare increases
• To improve responsiveness of government to complaints and feedback from user forums and members of the public
• To ensure that the voices and needs of people with disability are addressed including through engagement with people with disability and their organizations