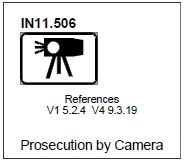 The Arrive Alive website received this request for assistance:
"Dear Expert, Is it legal to display command sign combination that include speed camera enforcements? I have investigated the temporary signs and do not see speed camera's as part of the temporary regulatory signs. I have noticed this on the N1 road in the Western Cape."
We would like to share this response from our Road Safety Experts:
The sign (plate) above falls into the category of INFORMATION SIGNS. (BTW, it is not included in the DoT charts of signs they consider to be 'important'.)
The sign is essentially intended to indicate to motorists that they can expect a law enforcement camera ahead, and that prosecution may be by means of camera evidence. This sign might appear in respect of a speed limit, a no-overtaking section, at a Stop street, or anywhere where camera law enforcement is used.
Below is the explanation that introduces the various IN11 signs, including the IN11.500 series. The camera sign is IN11.506. As stated below, this Prosecution by Camera sign may be used with regulatory, warning and guidance signs.