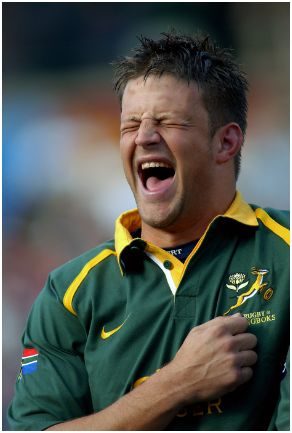 I am a passionate sports supporter and someone who proudly supports any South African sports team or participant! There are few things more beautiful than witnessing the singing of the National Anthem – either before a rugby game or at the podium of an Olympic or other international sports event!
During the past few weeks we enjoyed stunning performances from the Springbok rugby team – and I had the pleasure to attend the rugby test match against the All Blacks in Bloemfontein and to sing the National Anthem in my Springbok jersey. I might be blamed for being a bit on the false side [no Idols ambitions on my part] – but for lack of commitment and not raising the noise levels – I will not be blamed!!
But do we know all the words of the National Anthem? I believe it is important that we know ALL the words and would like to share them with my fellow sports supporters:
National Anthem of South Africa
Nkosi sikelel' iAfrika
Maluphakanyisw' uphondo lwayo,
Yizwa imithandazo yethu,
Nkosi sikelela, thina lusapho lwayo.
Morena boloka setjhaba sa heso,
O fedise dintwa la matshwenyeho,
O se boloke, O se boloke setjhaba sa heso,
Setjhaba sa South Afrika – South Afrika.
Uit die blou van onse hemel,
Uit die diepte van ons see,
Oor ons ewige gebergtes,
Waar die kranse antwoord gee,
Sounds the call to come together,
And united we shall stand,
Let us live and strive for freedom,
In South Africa our land.
Also view the Translation from Wikipedia: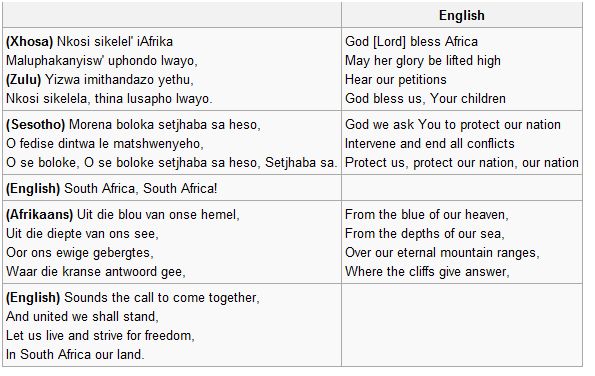 [Photo of Bob Skinstad singing the National Anthem by Gerhard Steenkamp of Superimage Media]
We would like to invite all our supporters to view the safety guide before they travel to the game:
• Spectator Survival Guide for Safety of the Road to the Sports Stadium