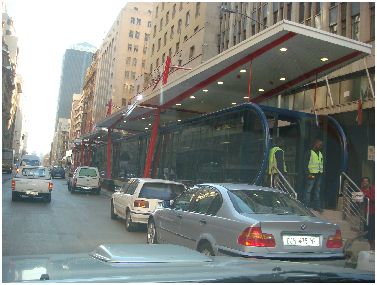 Taxi bosses were not negotiating in good faith on Cape Town's proposed Integrated Rapid Transit (IRT) system, the city's mayoral committee member for transport said on Wednesday.
Elizabeth Thompson's claim came as the Western Cape National Taxi Alliance (WC-NTA) suspended services in the city, a move which coincided with the second day of a strike by metropolitan bus drivers.
Thompson said the strike was called despite the association being in talks with the city and province on IRT and other issues such as arrests and traffic fines.
She said at a meeting last week, the association explicitly stated that it would engage with the city.
"However on Friday we were informed that the WC-NTA would commence an indefinite strike starting today (Wednesday).
"We do not regard this as engaging in good faith".
The association had had numerous opportunities to be informed about the IRT and had refused all of them.
It was not allowing its members to be informed of the benefits the IRT would bring to drivers and operators.
Stranded
Western Cape transport MEC Robin Carlisle said he encouraged engagement and negotiation.
"We regard striking in the middle of these engagements as negative and unhelpful to the process," he said.
Many commuters were earlier left stranded by the loss of taxi services and the illegal bus strike.
"Commuters have really been inconvenienced," said city spokesperson Kylie Hatton.
She said law enforcement officials were on stand-by but no incidents of violence had been reported.
The strike by Golden Arrow bus drivers continued into its second day on Wednesday despite an interdict granted by the Labour Court on Tuesday afternoon.
The company said about 70% of its buses were affected, and the strike had severely disrupted services.
Processes
Golden Arrow manager Francois Meyer said the court had declared the strike unprotected, and ordered the SA Transport and Allied Workers Union and its members to not block depot entrances.
"Golden Arrow is now putting in place processes that will ensure that all participants in this illegal strike are forced to face the consequences of their actions," he said.
The strike "continues to prevent the provision of scheduled bus services", Meyer said.
He rejected the strikers' claims of management racism and harassment.
Golden Arrow followed a strict code of conduct, and every remedy, including arbitration and the Labour Court, was available to enforce worker rights.
– SAPA
Also view: