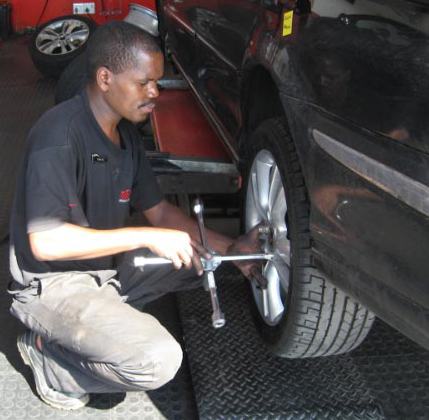 Bridgestone South Africa has reminded motorists to only use reputable fitment centres and be aware of safety-critical aspects when having new tyres fitted.
Romano Daniels, General Manager of Group Communications and Marketing, said that tyres are safety-critical items which should only be mounted by properly-trained personnel. "Avoid the temptation to use backyard mechanics or non-specialists to fit your tyres," said Daniels. "They may not have the equipment or expertise to ensure your safety, and this could result in tyre failure."
He advised motorists to consult with fitment centre staff if there was any doubt over the way the tyres were to be fitted. In particular he said motorists should insist on the following:
• Renewing the tyre valve at each tyre change;
• Correction of tyre pressure to manufacturer's stated figure after mounting;
• Confirmation of correct wheel alignment to reduce unnecessary tyre wear;
• Correct fastening sequence when tightening wheel nuts or bolts;
• Correct torque value of wheel nuts and bolts.
Daniels re-emphasised the need for wheel bolts to be correctly tightened. "We regularly see cases of wheel bolts or nuts which have been over-tightened, either with a spanner or by use of a compressed air-driven impact wrench," he said. "This can over-stress the studs and may lead to the wheel coming off while driving," he warned.
He advised motorists to immediately intervene if they saw a worker preparing to tighten their wheels with an impact wrench – such tools generate far more force than is needed to safely secure a wheel. "Make the fitment centre aware of this practice to ensure their staff avoids it in future."
Daniels said that wheel nuts or bolts should always be tightened with a torque wrench to the manufacturer's stated figure, especially on alloy wheels. He advised motorists that if they have a puncture while traveling and put the spare wheel on, they should avoid over-tightening the nuts or bolts, and have them properly torqued at the first available opportunity.
He said that if motorists had any questions about tyre mounting procedures they should consult a tyre specialist. "We advise motorists to use well-known fitment centres where equipment is of the highest order and staff receives ongoing training," he concluded
Ends
Also view: