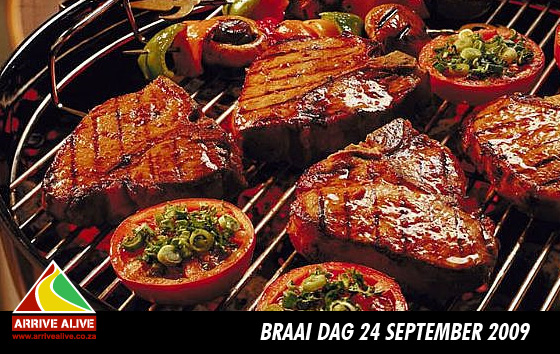 Tomorrow is Heritage day – a day to remember those who have brought South Africa to where we are today! This day has also become known as Braai Dag, a day where all South Africans celebrate their common heritage by braaing on the 24th of September.
Braaing is a deep-rooted tradition in South Africa that cuts across all demographic groups!
So why blog about Braaidag on the Road Safety Blog? It is important to consider safety at all times – safety on the road to friends where we might gather around the fire, safety with fire and most importantly safety in returning home. A good braai always goes off well with a few other uniquely South African beverages – which could unfortunately decrease our driving ability!
We would like to encourage the responsible South Africans to do their bit tomorrow for the safety of friends and family at the braai. Encourage them to stay over or manage their safe travelling arrangements. Be the designated driver, take the car keys or arrange for someone to drive your loves ones home!
We would like to invite our friends to get in the right spirit by also viewing: