Johannesburg, 16 September 2009 – The City of Johannesburg has announced that the complementary buses servicing the Rea Vaya CBD circle routes should be operating by Monday, 21 September.
The City has secured the services of sufficient number of ticket vendors on the two CBD circle routes, which will enable them to streamline the service offering on these routes. 
The vendors where tickets will be available are: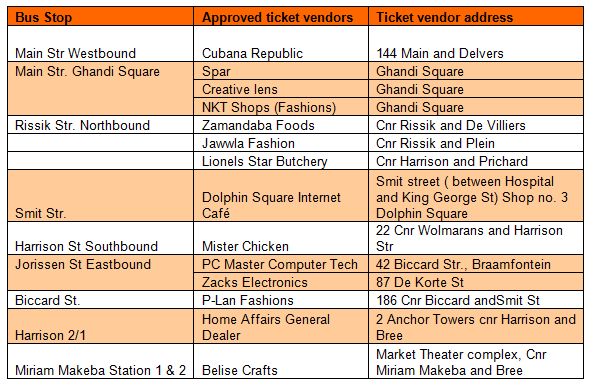 The CBD circle routes will continue to operate on the original timetable, namely from 6am to 8pm every 15 minutes.
Furthermore, with the starter service only R3 and R5 tickets will be sold as from 21 September 2009. Commuters will validate their R5 ticket when boarding on the trunk route and the R3 ticket when boarding on the CBD circle route.
– Ends – 
[Story appeared on the Arrive Alive website]