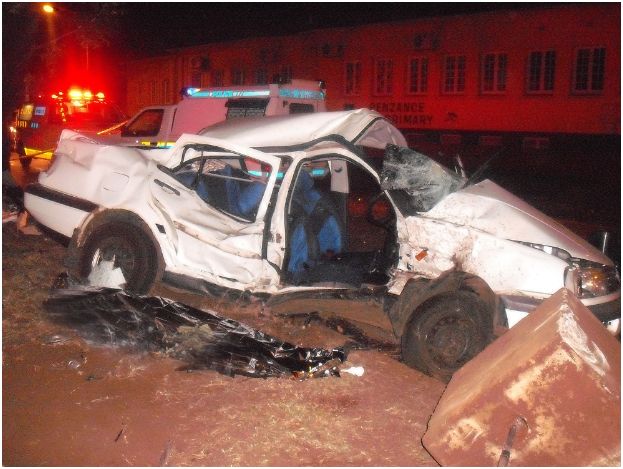 One man was killed and another critically injured when the car they were travelling in collided with an EMRS provincial ambulance in the intersection of Francois and Bartle Roads, Umbilo, Durban in the early hours of Saturday morning. A paramedic was also critically injured in the accident.
Netcare 911 paramedics responded to the scene and found the crumpled remains of a VW Jetta in the grassed centre median with it's two occupants entrapped in the wreckage. The driver of the car was found slumped over the steering wheel and died at the scene as a result of his injuries. Paramedics and police freed the front seat passenger, who sustained critical chest and head injuries, and stabilised him at the scene before he was transported to Netcare St Augustine's Hospital by ambulance.
The EMRS paramedics, stationed at Ulundi, Northern Kwa-Zulu Natal, were returning after leaving patients at King Edward VIII Hospital. The critically injured medic was pulled from his wrecked ambulance and was transported to Netcare St Augustine's Hospital for further medical care. His crewmate sustained serious injuries.
Exactly who was at fault is the subject of an SAPS investigation.
Chris Botha
Netcare 911