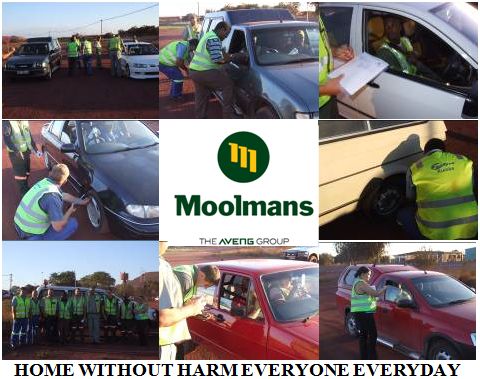 On the 21st of October 2009, Moolmans Sishen Project held a road block in one of the parking areas of Kumba Iron Ore Mine. This was the last step in the Moolmans Sishen Project Safety @ Home Campaign launched on the 22nd of September 2009.
Drivers were checked if they had their drivers licenses with them, whether or not the drivers and passengers were wearing their safety belts, how many passengers were in the vehicles and if their vehicle registration was still valid.
TrenTyre On Site measured tyre pressures and checked tyre condition and explained the defects to the drivers.
All the drivers and passengers who complied with "the rules of the road", were rewarded with a soft drink for their efforts.
Result of survey done on 50 vehicles:
• 100% compliance – 10%
• Driving without a safety belt – 66%
• Driving without license on person. – 6%
• Driver license expired – 4%
• Tyre pressure uneven on vehicle – 75%
• Overloaded vehicles – 6%
The statistics show that there is a problem as far the wearing of safety belts and taking care of tyres outside the mine are concerned. The statistics will be sent to all the contractors and client SHE Departments to address as this is a major concern.
The greater part of the Moolmans employees surveyed, indicated that the campaign launched by the company had a positive effect and we would like to thank the employees for their safe behavior on public roads.
Moolmans Sishen Project would also like to thank the following:
• The Arrive Alive Organization, specifically Adv. J Jonck, for all the information, permissions, poster formats and blog communication.
• Kumba Iron Ore Mine for the Kenny Hand Centre used for the training.
• M Verster and Kathu Profile for the modifying and printing of the campaign posters and banners.
• TrenTyre for assisting with the Road Block.
• The Kathu Gazette for making the public aware of mine and contractor initiatives to promote safety.
• The Moolmans employees that took part in the campaign.
The safety of employees should be as important outside the mine as it is inside. Môre information can be on road safety can be obtained from www.arrivealive.co.za  and www.roadsafety.co.za  We urge all companies to "Drive safety home and drive home safely."
Keep safe
J Geyser
SHE Manager
Moolmans Sishen Project