We have decided to share on this blog insight to the tools used by an accident investigator. Well known Accident Investigator Stan Bezuidenhout has revealed the "tools of the trade" that enables him to perform top accident investigations.
In reaction to ongoing interest, Stan has compiled and launched a Forensic Accident Investigation Evidence Kit. We would like to share what these tools look like and why they are necessary: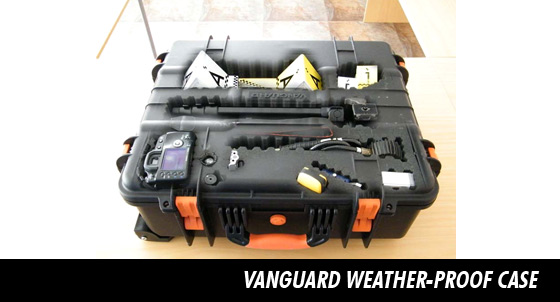 The kit is designed to enable any accident investigator to grab only one case and then to have everything he or she could need available immediately, at any scene.
The kit consists of the following essential items:
Vanguard Weather-proof case
Supreme 53F
Virtually indestructible, the rugged Vanguard Supreme Series hard cases have innovative features for unmatched strength and durability.
They are O-ring sealed, waterproof (up to a depth of 16.5 feet/5 meters), airtight, and built to withstand the most extreme conditions (-40°F/-40°C to 203°F/95°C).
Supreme cases are great for airline travel with an automatic pressure equalization valve and ability to support up to 265 lbs/120 kg. of exterior weight.
Anti-slip rubber feet and a solid carrying handle offer extra durability.
Thick, quick-release latches lock in place and steel-reinforced lock holders are great for use with pad locks for added security.
Supreme 53F has dense, customizable hexagon-shaped foam for an extremely tailored, custom fit for gear. Its wheels and extended handle make travel with your gear a breeze.
Waterproof and airtight (up to a depth of 16.5 feet/5 meters)
Two storage levels
High-density customizabe, hexagon-shaped foam interior
Steel-reinforced lock holders
Wheels and extended handle
Although the equipment inside could be placed in any container, it must be remembered that the contents of this kit can make the difference between the proper investigation of an accident scene and the total loss of evidence, and therewith – 3rd Party liabilities.
Read more about this case at http://www.vanguardworld.com/index.php/en/products/photo-video/detail-1-2-33-177.html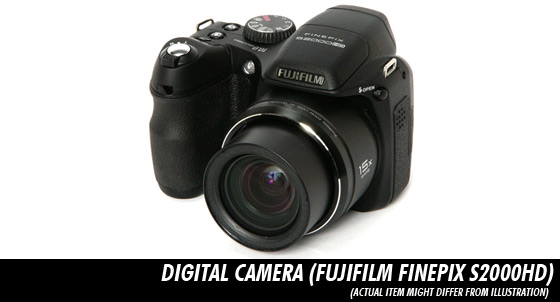 Please note that we (IBF Investigations) use the Sony Alpha 100/200 DSLR cameras AND the Fujifilm S2000HD for our work. The image of the kit above, shows the Sony Camera.
Fujifilm has always been a prolific purveyor of super-zoom or "bridge" cameras.
You can trace the lineage of this new FinePix S2000HD all the way back to the FinePix 4900 Zoom, launched in the summer of 2000.
However camera design has come a long way in eight years. The 4900 Zoom was a 2.4 megapixel camera with a 6x zoom lens.
The S2000HD is a 10.0 megapixel camera with a 15x zoom lens, sensor-shift image stabilisation and HD video recording.
Despite its relatively low price it seems that very few corners have been cut in the design of the S2000HD.
Some previous Fuji super-zoom models have been a little short in the build quality department, but the S2000HD feels very solidly made.
It has a plastic body, but feels surprisingly heavy for its size, thanks mostly to the amount of glass in the lens, although this is balanced by the weight of four AA batteries inside the handgrip.
Fujifilm has a lot of experience with SLR-style super-zoom cameras, so it's no surprise that the S2000HD is superbly comfortable and easy to hold.
The large handgrip has a soft high-friction rubber coating, and a textured grip area extends to the sculpted thumbgrip on the back. The controls are large, sensibly laid out and clearly labelled, and all operate smoothly.
Read more about this camera at http://www.fujifilm.com/products/digital_cameras/s/finepix_s2000hd/
2 x Battery Pack (set of 4 + charger)
Enough cannot be said about the importance of having spare batteries. If our at-scene protocol, which is part of our at-scene investigation training, is followed, hundreds of photographs are typically taken at each scene.
Since this might be the case, having spare batteries (that are charged) cannot not be over-stressed.
For this purpose, we included two sets, with chargers, in our kit.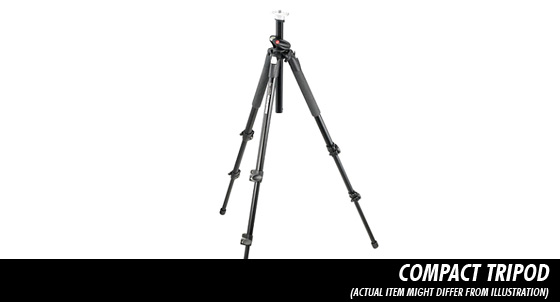 Not all accidents happen in daylight. Some obviously happen at night.
No camera flash (unless you are willing to pay thousands) will be adequate for most accident scenes.
Incident lights, reflective clothing (fire, ambulance, etc), odd angles, dark surfaces and metallic vehicle paint are just some of the factors that render "point-and-shoot" flash photography nearly useless at accident scenes.
In order to capture "All the evidence," as required in our training, a tripod is an essential item in your investigative arsenal.
If you want to use a tripod, there is also no sense getting the cheapest one you can find, since stability is a definite prerequisite.
We have taken all the guess-work and trial-and-error out of acquiring everything you need, and compiled it into a neat and rugged evidence kit.
Tyre Pressure Gauge
Even Police Investigators forget the importance of this little device.
If you are not going to take the pressures of every and all tyres at every and all accident scenes, you will have lost vital evidence.
Some tyres are deflated, but this cannot be seen on photographs (like on trucks) while others are over-inflated. All these conditions affect your investigative integrity.
Without a proper tyre pressure gauge, capable of recording car and truck tyre pressures, you will be like a hunter with a gun, but no bullets.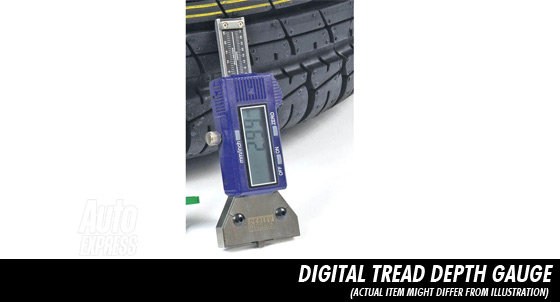 There are a wide array of different tread depth gauge models. We only use high quality steel calibrated models.
Gone are the days when "the tyre looked OK" was enough as "proof" that the tyre was – in fact, OK.
Speed calculations relating to aqua-planing, legal definitions of "smooth" and tyre wear paterns relating to wheel alignment all form vital parts of a proper investigative analysis.
Without accurate tyre tread depth readings, taken by reliable means, there can be no reliable evidence for later analysis.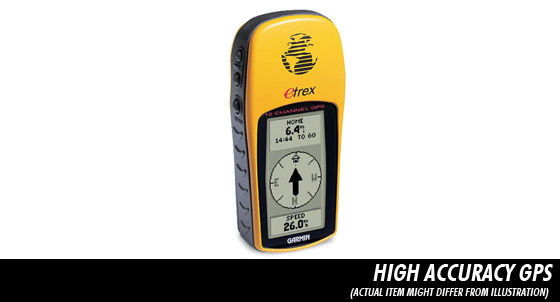 When you attend an accident scene, you do not always have "Land Marks" available, or there may be no way to accurately judge the distance to a particular location.
Also – where spills are involved, you may have cleaned up and another spill might occur at that location (or near-by) later, and this might come back to haunt you as a liability.
If you can record the accident location to a high degree of accuracy (only possible with a high-sensitivity hand-held GPS), any post-event analysis will be greatly simplified.
In court, your GPS coordinates might later be the only accurate reference to where the accident really occurred.
We cannot emphasize the importance of this piece of equipment enough.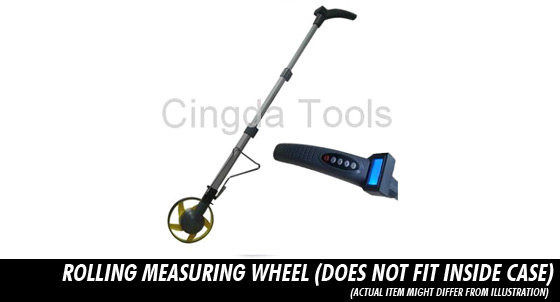 We use a digital measuring wheel to ensure accuracy and to eliminate errors.
Of what value would your attendance be if no measurements are taken?
Anything from the vehicles involved, road-widths, length of tyre marks and/or vehicle dimensions could become relevant in court later.
By using this simple, yet accurate, piece of equipment at every scene, you are assured that you will be able to get "All the evidence."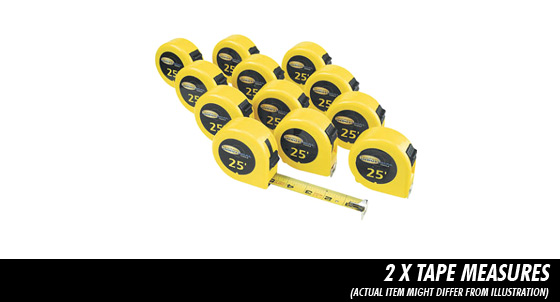 Measuring wheels have limitations. They do not work well on sand, cannot measure vertical distances and are inaccurate on very uneven surfaces,
They are also not very good at measuring arcs (road curvature).
In these instances, the trusty Tape Measure comes in very handy.
Road Curvature, Damage Height, Depth (of trains, culverts and/or ditches), road edge fall-off and many other aspects of evidence can only be measured reliably with a Tape Measure or TWO.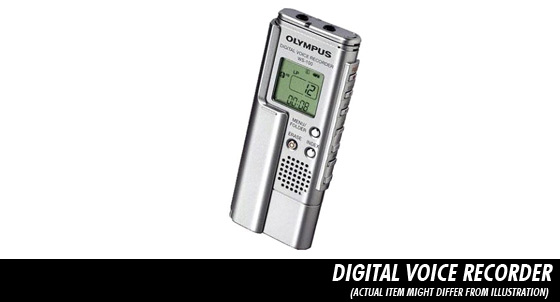 People talk at scenes. You hear things. You talk.
By having (and using) a digital voice recorder at every accident scene, you are in a position to:
a) Record everything said and admitted to.
b) Remember that you are being recorded too, and keep your mouth shut!
c) Assist yourself with recalling elements of evidence later, that you may have forgotten to write down.
d) Provide proof of various elements of the scene.
Remember – invasion of privacy (in relation to illegal surveillance) only applies where you "Set up" a person and "Record" them.
At accident scenes, you are recording YOUR OWN verbal notes, as well as your activities on the scene.
You have no idea what whom will say, or that they would say it, and have no interest in recording any specific conversation.
In this instance, if the "while scene" was recorded, people talking in general are not "set up."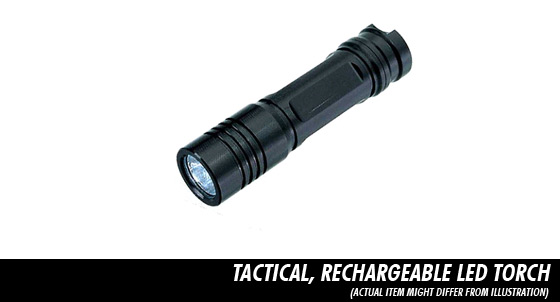 Working at night with a "cheap" torch can become very frustrating very quickly.
By using a rechargeable, tactical torch, you are ensured of high visibility, reliability and light quality.
Remember – torches (on accident scenes) are used to see where you are walking, to search for evidence, to illuminate items you want to photograph or to identify individuals/bodies.
And, good light keeps you out of blood spills!
We envisage the possibility that you might arrive at an accident (or industrial accident) scene first.
In this instance, you want to be sure as to identify, mark and highlight any/all elements of evidence.
If you use evidence markers (as opposed to nothing), you will be in a position to identify, secure, protect, tag and record evidence better.

We recommend the use of evidence markers very highly. There are times when you need to mark the position, orientation, presence and/or final resting positions of vehicles, bodies or items of evidence.
While it remains the job of the SAPS to investigate crimes, not all accident scenes are crime scenes.
It is also often seen that SAPS officers have no marking spray available.
Even allowing them to use yours is better than losing the evidence all together.
Please feel free to contact us for more information.
Please keep in mind that nothing in this case is "cheapest in class" since we only want to supply technologies that we have tested, evaluated and used for an extended period.
We trust that you will benefit from our experience and trust our selection of the finest tools for this industry!
The kits are available now, on order, for R 15,995.00, including VAT at 14%.
The price is valid while stocks last (camera models, rand/dollar exchange rates, etc) and may change without notice.
All orders are subject to payment before delivery and delivery can take up to two weeks from date of order.
Al items, makes, brands, models and/or colors could change without notice, due to technological advancements and/or model replacements.
Looking forward to your replies, comments, thoughts and – of course – your orders!
Stanley Bezuidenhout
(Forensic Collision Homicide Reconstructionist)
IBF Investigations cc, South Africa
PO Box 5037, Tyger Valley, 7536
http://www.ibfsa.com
Also view: