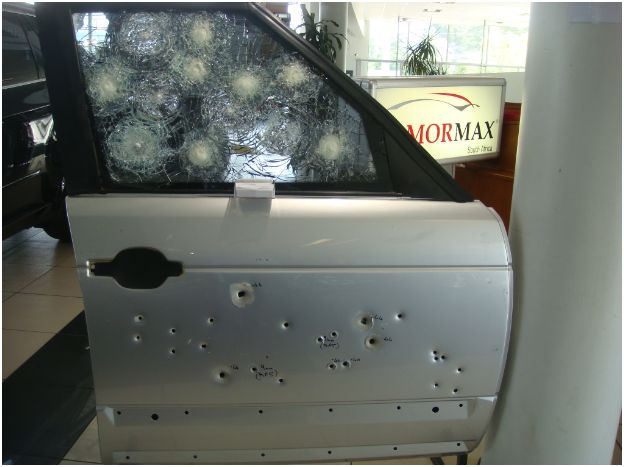 Last week I was fortunate to be introduced by a friend to Grant Anderson, GM of Armormax SA. We shared an interesting conversation about armoured vehicles in South Africa and the increasing demand for protection not only from threats to road safety – but also threats presented by armed criminals.
Recent debates with regards to the "shoot to kill" policy to be used by police members when confronted by armed suspects have again raised the alarm with regards to the need for protection by ordinary citizens.
The proliferation of illegal firearms in South Africa has been a major contributing factor in the rise of violent crime. Figures from the Institute of Security Studies indicate that there are four illegal firearms for every legal registered firearm! This coupled with a police force that is unable to guarantee the safety of its citizens has led people to seek alternative means to effectively bolster their personal security.
The need for an increased level of security whilst in a motor vehicle is self evident. Up until now there has not been a widely available solution available to the man in the street. It is interesting to note that it is not only private security companies who are seeking assistance in armouring their vehicles – but also diplomats and high profile business people!
Armormax SA is a company dedicated to the armoring of motor vehicles utilizing the latest in high tech lightweight opaque and transparent armor. Partnered with world renowned International Armoring Corporation, Armormax specializes in lightweight modular bulletproofing specifically designed for the threat levels currently encountered in South Africa.
Grant Anderson GM of Armormax says that interest in the bullet resistant vehicles produced by Armormax has been high. "Although we have only just commenced marketing Armormax, interest levels have been extraordinary. We have completed a number of vehicles and our order book is starting to fill up. I think one of the differentiating factors about Armormax is that we are able to armor a range of luxury vehicles, so our clients are not limited when it comes to vehicle choice. This coupled with a very quick turnaround time and the fact that the vehicle looks no different from the standard model has made the difference".
The Arrive Alive website will strive to provide more information on armoured protection in vehicles and continue with the development of additional sections of content to enhance the safety of all our road users!