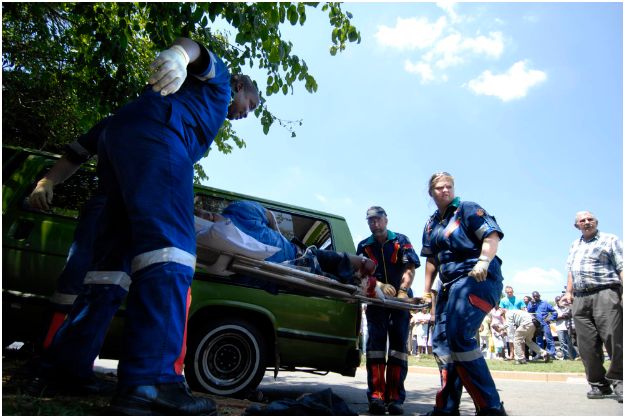 A police officer sustained a gunshot wound in an armed robbery at the intersection of Republic and Jan Smuts roads in Randburg at around 08h30 this morning. Detail of the robbery is still for police investigation, however it is believed that the suspects engaged in a shoot out with a metro police officer after robbing a company.
Netcare 911 paramedics arrived on scene and found that a police officer  sustained a gunshot wound to his abdomen. After he was stabilized paramedics transported him to the Netcare Mill Park hospital for further treatment. One of the suspects sustained several gunshot wounds to his legs; the impact of the bullets shattered the bones in his one leg and damaged the knee cap of the other leg. The third suspect sustained a serious laceration to his head, it is believed that he fell and hit his head against a sharp object after trying to escape from the crime scene.
Paramedic worked fervently to stabilize the two men and after police took all the necessary evidence from the men they were transported to an Area hospital by ambulance while remaining under police guard.
Chris Botha
Netcare 911