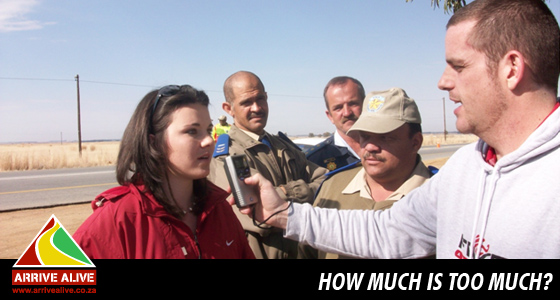 Nearly 450 people have already died on South Africa's roads this month while 2,000 drunk drivers have been arrested, according to the department of transport.
According to preliminary reports, 444 deaths (126 drivers, 184 passengers and 130 pedestrians) were recorded on South Africa's roads as a result of 335 fatal crashes, for the period 1 to 16 December.
More than 300,000 vehicles and drivers have been stopped and checked and more than 2 000 drunk drivers arrested on South Africa's roads since December 1, as part of the Festive Season Arrive Alive Road Safety Campaign.
Of the 2,000 drivers arrested for drinking and driving, more than 500 were arrested in the Eastern Cape alone and a further 320 in KwaZulu-Natal.
Since 1 December, 73 motorists were arrested for reckless and negligent driving. More than 150 buses and 50 taxis have been removed from the road in the Eastern Cape.
In Gauteng, at least 50 buses and 70 taxis have been removed from the roads.
In KwaZulu-Natal, 423 un-roadworthy vehicles have been taken off the roads. Thousands of motorists were fined for speeding, non-wearing of seatbelts and other offences. The highest speed recorded was 238km/h in KwaZulu-Natal where a motorcyclist was sentenced to a fine of R18,000.
[Story from the Arrive Alive website]