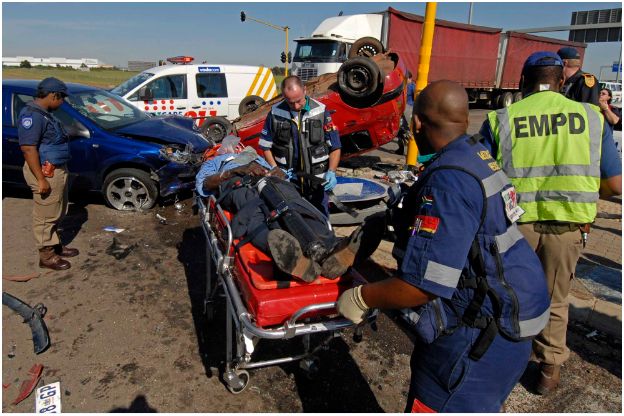 A man is in a critical but stable condition after a roll over accident along Atlas road this morning. Exact details of the accident are still a subject for police investigation, however according to witnesses the vehicles were traveling in opposite directions on Atlas road this morning at around 08h00.
The errant party then turned across the path of the oncoming car resulting in a side impact / roll over accident. Both vehicles came to rest on the centre island in Bonaero park road, with the red vehicle on its roof and wedged up against the traffic light.
Netcare 911 paramedics arrived on scene and had to pull the driver of the red car through the window of the crumpled wreckage. The man was critically wounded and paramedics worked fervently to stabilize the injured man before transporting him to the Boksburg Benoni hospital for further medical care.
Fire services had to be called in to make the area safe while paramedics were trying to stabilize the patient as the fuel from the upside down car was streaming down the gutters in the roadway. The driver of the other car sustained injuries to his chest but selected to go with his family to a nearby hospital for further treatment.
Chris Botha
Netcare 911