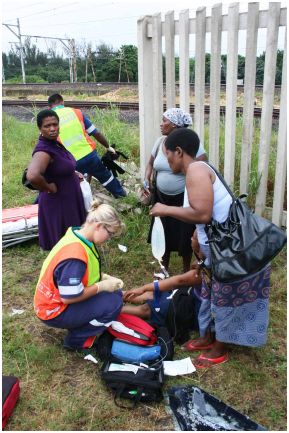 Fifteen people were injured, three seriously, when the minibus taxi they were travelling in collided with a bus on Umgeni Road near Durban Station this evening.
It is thought that the driver of the fully laden taxi was unable to stop in time and ploughed into the back of the bus.
The driver and front passenger of the taxi were lucky to emerge alive. The injured were treated and stabilised at the scene by Netcare911 Paramedics before they were transported by ambulance to the Addington and Netcare St Augustine's Hospital for further care.
In another incident three people were seriously injured when a minibus taxi slid into a light pole on Sarnia Road.
It is alleged that the driver of the minibus taxi lost control of the vehicle while negotiating a bend. The taxi slid sideways into the pole, the force causing the vehicle to bend around the reinforced steel.
Pictures: Blue minibus taxi collided with bus on Umgeni Road.
Grey minibus taxi collided with a light pole on Sarnia.
Jeffrey Wicks
Netcare 911