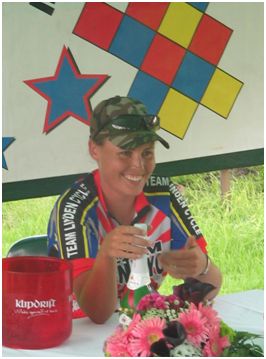 "DONE! Circumnavigating South Africa, Solo"
Completed: 100 Days. 5 951km's. One Girl, A Bicycle and a Big Dream.
Jolandie Rust's (25) dream is to be the first woman to circumnavigate the African continent on a bicycle, thereby setting a world record as the first woman to do so.
In March 2008 Jolandie launched the first leg of her trip, cycling solo from Johannesburg to Cape Town. With great interest and some skepticism, the country looked on as she cycled, on her own, down to Cape Town. She made it to the Mother City in 16 days!
On 3 October 2009, Jolandie launched the second phase of her project, to circumnavigate South Africa, solo, thereby being the first woman to do so! This trip was in order to raise enough awareness and funds for her to live her dream of cycling around the entire African continent.
Jolandie kicked off her circumnavigation of South Africa from Melville, Johannesburg and cycled along the border to Richards Bay, along the KZN coast before entering the Eastern Cape and eventually reaching Cape Town on 14 November.
Jolandie left Cape Town, after a few days rest and maintenance, on 17 November to begin the return leg of her journey. The trip back to Johannesburg saw her travelling through the Western Cape, Northern Cape, North West and Limpopo.
Jolandie arrived back in Johannesburg on Sunday 10 January 2010 having covered 5 951 km's and 100 days on the road in her solo circumnavigation of South Africa.
Jolandie will now commence planning her circumnavigation of Africa.
For interviews, articles and photos please contact Jolandie Rust on 076 167 2008 or jolandie.rust@gmail.com
For more info: www.jolandie.co.za