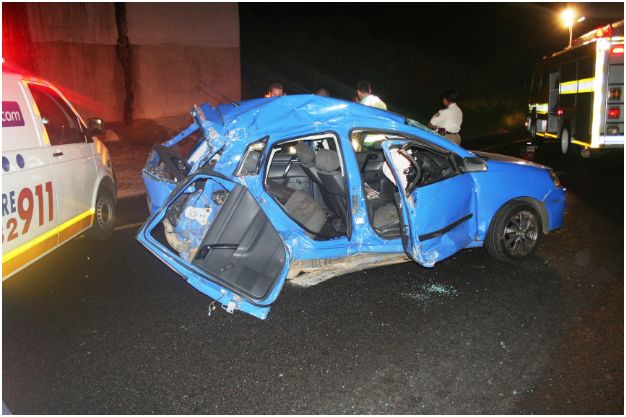 One man was killed and another critically injured when the vehicle they were travelling in collided with a truck before rolling several times on the N3 Pietermaritzburg bound carriageway near the Candella Road Bridge this evening. The car was reported stolen in a hijacking in Berea Road minutes before the smash and both men are alleged to be hijackers.
It is thought that the two were making their escape in a stolen VW Polo on the N3 when the driver lost control of the car in wet weather conditions. The vehicle spun out and collided with an articulated truck.
The VW Polo left the road and rolled repeatedly, ejecting one of the men, before coming to rest beneath the bridge.
Netcare911 Paramedics arrived to find a critically injured man in the crumpled wreckage of the car. Netcare911 Advanced Life Support Paramedic Garrith Jamieson and his team carefully extricated the man before he was intubated and placed on a manual ventilator. He was transported to Addington Hospital under police guard.
His cohort is thought to have been killed on impact when he was thrown from the spinning vehicle.
Jeffrey Wicks
Netcare 911