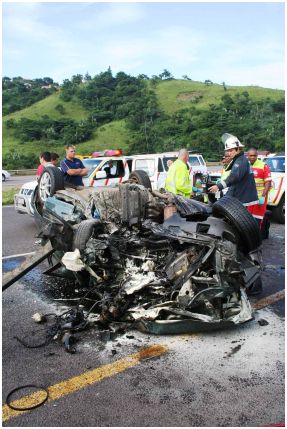 Four people have been killed and another man critically injured when the vehicle they were travelling in veered from the N3 Pietermaritzburg bound carriageway near the Marianhill Toll Plaza.
What caused the driver of the car to lose control is unknown. The car slammed into a steel support pillar of an overhead road sign. The vehicle spun out and came to rest on its roof in the middle of the road.
Paramedics first at the scene pulled the critically injured man from the wreckage of the car. He was treated and stabilised by advanced life support paramedics at the scene before he was transported by ambulance to a Chatsworth Hospital for further definitive medical care.
Update:While Netcare911 Paramedics were helping eThekwini Metro firefighters clear the bodies from the wrecked car a fifth body was found. Collectively three young women were killed and two young men.