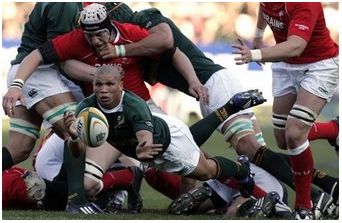 Springbok scrumhalf Ricky Januarie will perform 20 hours of community service after drunk-driving charges against him were withdrawn in the Bellville Magistrate's Court on Friday.
Januarie was ordered to coach rugby at schools selected by the National Institute for Crime Prevention and Re-integration of Offenders (NICRO).
He is expected to do this community service between February 8 and July 31 in the Elsies River community on the Cape Flats.
Prosecutor Marco Chandler said the decision by the Western Cape Directorate for Public Prosecutions (DPP) was in line with the "diversion system", in which young offenders were punished for crimes without subjecting them to the trauma of a criminal trial and the devastation of a criminal record if convicted.
The DPP excused Januarie from community service from March 29 to April 27, when he will be abroad with the Stormers. They will be playing Super 14 matches against the Western Force in Perth on April 2, the Blues in Auckland on April 10, the Chiefs in Hamilton on April 16, and the Reds in Brisbane on April 23.
Magistrate Helma Smit reminded Januarie that there were thousands of young people who regarded him as a role model, and that his offence had sent the wrong message to them.
She said she hoped the rugby star would "make full use of this opportunity".
Januarie has been on trial since last year and during that time failed to appear in court twice – once with the consent of the court and the other without – while he was overseas with the Springboks and then playing for the Ospreys in Wales.
The court case stemmed from a motor car collision in Durbanville in September 2008.
His blood report reflected a blood-alcohol level of 0.18 percent, more than three times the legal limit of 0.05 percent.
Januarie was represented in court by attorney Frikkie Erasmus, who assured the court he had fully explained the diversion system to Januarie, and that the charge would be re-instituted if he failed in any manner to perform the community service as required.
SAPA
For Rugby News visit www.15.co.za