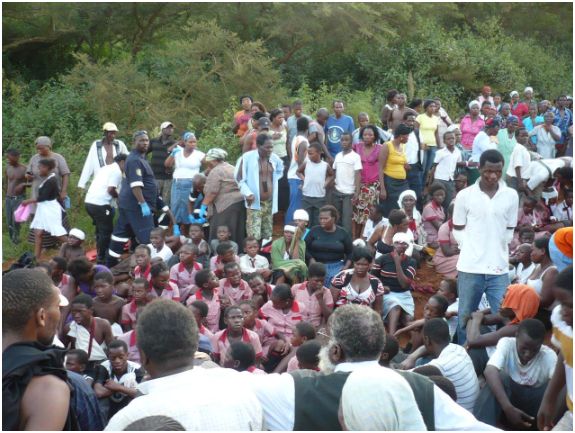 Two men were killed and one hundred and nineteen people, mostly school children, were injured when the bus they were travelling in left the P100 near Ndwedwe, north-west of Durban last night.
It is though that the bus, laden to capacity with school children from a local primary school, had been returning from the funeral of their school's headmaster in Umzinyathi. Many children were accompanied by their teachers and parents.
It is thought that the driver was bound for Ndwedwe and while navigating a steep incline on an uneven gravel track, lost control of the packed bus which left the road before rolling several times and coming to rest on its roof against an electricity pole.
The force of the rollover crushed the roof of the bus onto the seats, trapping some occupants inside. Most managed to clamber out of the wrecked bus through small spaces between the windows opening and the ground.
Netcare911 Paramedics arrived on scene to find bodies of the dead and injured dotting the hillscape. They immediately initiated disaster control measures and set about treating the injured.
One critically injured man was stabilised by Netcare911 Advanced Life Support Paramedics at the scene before he was airlifted by the Netcare3 Aeromedical helicopter to a Durban hospital for further definitive medical care.
The scores of wounded were transported by Netcare911 and EMRS ambulances to various hospitals and clinics in the area.
Jeffrey Wicks
Netcare 911