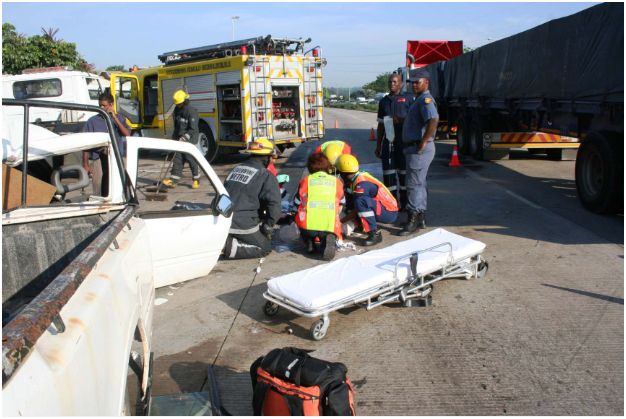 A collision involving an articulated truck and a bakkie on the M7 Edwin Swales Drive this morning left five people injured, one man critically.
It is thought that the articulated truck with no load had been heading west when the bakkie turned across its path in the Titren Road junction. The truck slammed into the bakkie and pushed it nearly fifty metres from the intersection before veering across the oncoming lane, down a steep embankment and into a canal which runs parallel to the road.
The driver of the bakkie was critically injured and trapped in the crumpled remains of his vehicle. Netcare911 Paramedics and eThekwini Metro firefighters used the Jaws of Life and other hydraulic rescue equipment to cut the man free. Once extricated he was treated and stabilised at the roadside before he was transported by ambulance to an area hospital.
The driver and three female passengers were found by medics in the shallow canal. Police Search and Rescue officers rigged and elaborate rope rescue system to help medics haul the injured to ambulances parked at the roadside. They were also transported by ambulance to hospital.
Jeffrey Wicks
Netcare 911