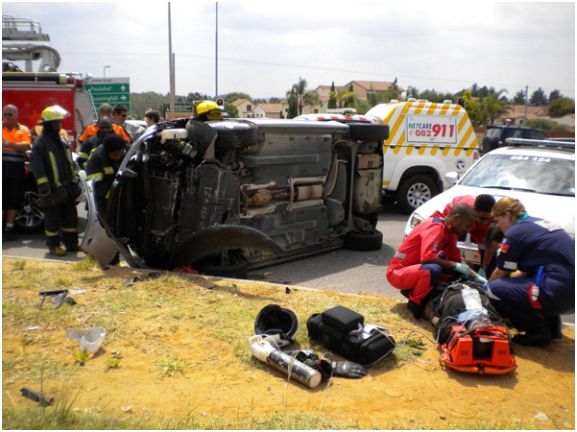 A delivery man has been seriously injured after colliding with a VW Polo. The incident occurred on the corners of Cambridge Road and Witkoppen in Paulshof.
Witnesses to the accidents explained that both vehicles turned into Witkoppen road and collided, sending the motorcyclist through the windscreen of the Polo, which then subsequently connected with the pavement and overturned. Bystanders removed the patient from the windscreen and placed him on the sidewalk. ER24 Paramedics arrived on scene to find the motorcyclist lying on the sidewalk confused and complaining of severe pain in his pelvis and right leg.
The patient was treated by Advanced Life Support paramedics on scene and loaded into the ambulance, he was then transported to the nearby Sunninghill hospital.
The driver and passenger of the Polo did not sustain any physical injuries.
Vanessa Jackson
ER24