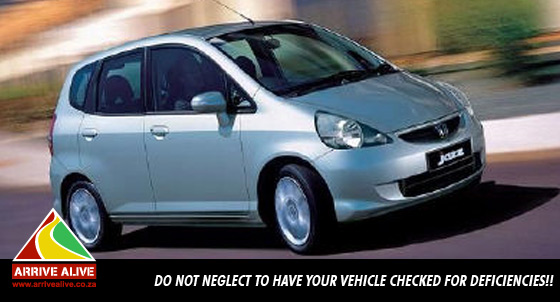 The Arrive Alive website received an email from a concerned citizen and would like to share this message with our readers:
"I own a Honda Jazz (2006) that is affected by the recall to check and if necessary replace the window power switch that is believed to have malfunctioned and caused the tragic death of the Nurse baby.
I contacted Honda SA today to ask when the recall would begin. I have not seen or heard anything after Honda's announcement in January. I received a response that I had to contact my dealership to have the job done. I think it is shameful that this was not communicated to Honda Jazz owners and borders on neglect and disrespect for the consumer.
My brother and 3 family members also own the Honda Jazz and they are also in the dark about the recall process, perhaps you can advise if there was any message beyond the recall announcement that we may all have missed?
Please can I ask you to notify the Arrive Alive website visitors that if they own or know anyone who owns a Honda Jazz (2002 – 2008 model) they should contact their Honda dealership and arrange to have their vehicles checked and the new unit installed. There is no cost to the vehicle owner, as confirmed by Raelene Zacheus of Honda SA."
We would like to urge all vehicle owners to contact their dealers and enquire whether their vehicles need to be checked for any deficiencies. There have been recalls from both Toyota and Honda. Do not wait till an accident happens. Have your vehicle checked and drive with peace of mind!!