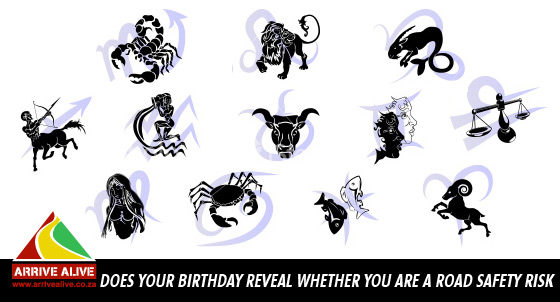 We have all driven with good and bad drivers. Sometimes we just feel safer in the company of a good driver driving at high speed than with a poor driver driving at lower speeds. Driving experience is definitely an important requirement to be regarded as a safe driver.
The personality traits of a person are also important indicators of how well a person can be expected to drive. A person who is safety conscious in other areas of society is also less likely to be reckless behind the steering wheel, whereas the guy taking chances at work might also do so behind the wheel!
It is well known that personality traits are often categorized according to the specific star sign under which a person has been born. Can we therefore say that the star sign under which you were born/ your birthday will reveal if you are a road safety risk?
On the car Insurance blog we have posted a very interesting story titled "Which star signs have the best and the worst drivers?"
This story features the interesting findings from research in Australia about the birthdays and accident claims of car insurance claimants. Suncorp Metway, Ltd., a multi-faceted Australian Financial Service company ranked car accident claimants by their star sign in a study of 160,000 accident claims over a three-year period.
It appears from this study that the Capricorn is the best driver and the Gemini the worst drivers.
View the post titled "Which star signs have the best and the worst drivers?" to find if your birthday is regarded as the birthday of good or bad drivers!