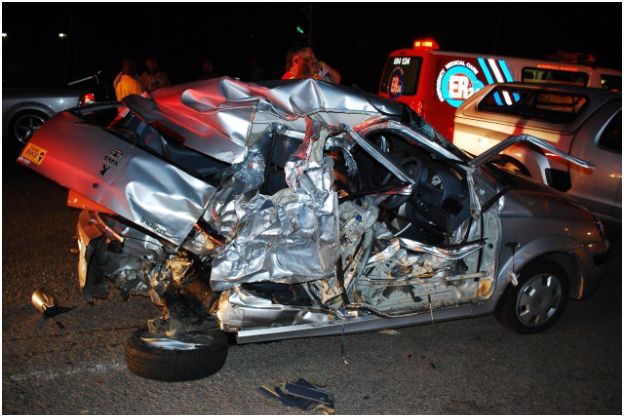 At least one man was killed and four others were injured in a collision on the R28/N14 Pinehaven Interchange this evening.
Bystanders on the scene explained to paramedics that approximately 23:00 a truck traveling down the hill from Krugersdorp smashed into vehicles at the intersection.
It is understood that the truck tried to avoid the collision and veered partially onto the middle island when it collided with a TATA at the intersection ripping it to pieces. After colliding with the TATA the truck apparently started to overturn and smashed into a white bakkie dragging it for several meters underneath the truck.
The truck landed upside down further down the highway with its load of potatoes scattered across the scene, blocking the N14 completely. When paramedics arrived on the incident they found a man, believed to be an occupant of the truck lying between the potatoes with multiple fatal injuries. He was declared dead on the scene. Another man, also believed to be from the truck, was found several meters away with multiple critical injuries.
Paramedics had to implement advanced life support on the scene to try and stabilise him. He was later airlifted to a nearby hospital for further medical management. The female driver of the TATA sustained multiple injuries and was rushed off to a nearby hospital per ambulance. The two occupants of the bakkie miraculously escaped with moderate injuries. They were also transported to hospital by ambulance.
The exact cause of the accident will be investigated. ER24 attended to numerous fatal truck accidents at this intersection.
Werner Vermaak
ER24