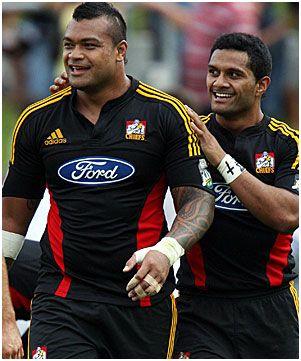 Police are awaiting results of a blood test before deciding whether any charges will be laid against Sione Lauaki after the Chiefs player's car rolled early on Saturday morning.
Lauaki, 28, was left with a badly swollen arm after the crash on State Highway 1 about 04:30.
Chiefs chief executive Gary Dawson has confirmed that Lauaki was involved in the crash.
A subsequent statement from Dawson said Lauaki was driving toward Auckland "when he fell asleep at the wheel".
According to the Waikato Times, the car left the road, smashed through a fence, rolled and ended up in a paddock. Lauaki was found semi-conscious in the driver's seat.
Dawson said alcohol was not a factor in the crash and no-one else was involved.
"His arm is swollen and will continue to be assessed by Chiefs medical staff," Dawson said.
"Understandably Sione is shaken by this accident and we are all thankful it was not more serious."
It was too early to say how the crash would affect the rest of Lauaki's Super 14 season.
Police said an evidential blood alcohol test was take and sent to ESR in Wellington for analysis. It was expected to take several days before the results were known and to determine if any charges would follow.
Lauaki spent only a short time on the field during the second half of the Chiefs' match against the Cheetahs at Waikato Stadium on Friday night. Most of the time he was on the bench.
Lauaki will be sentenced next month on a charge of common assault after he punched a man at a Hamilton bar on March 5.
[Info from Sport24.co.za]