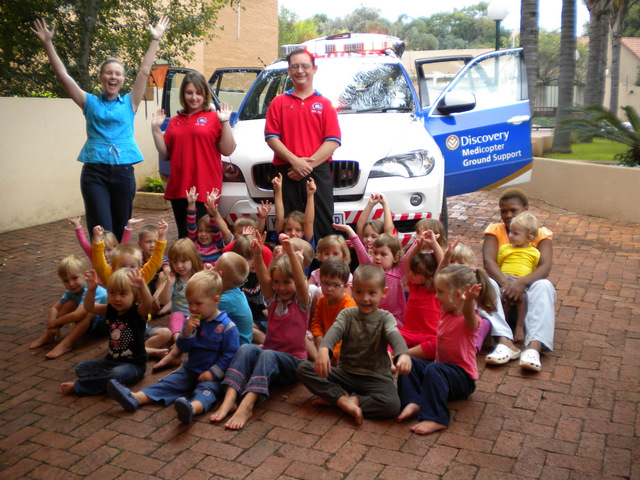 This morning between 9 and 11 am we put a few smiles on the faces of the Bietjie Woud Nursery School children in Faerie Glen, Pretoria. They are having a themed week of Paramedics, and were delighted when we obliged to being asked to show and tell them about who we are and what we do. The excitement could be clearly felt when we handed out ER24 colouring books and crayons to keep the children busy while we waited for the ambulance to pull in.
As the brand new ambulance, that was only delivered to the Pretoria branch yesterday, pulled into the gate, the children could not contain their excitement. They almost all screamed in unison "put on the lights", and were absolutely thrilled when the Pretoria crews obliged.
They were told who we are, and exactly what we do, and how to call for the ambulance in an emergency. Not surprising that most of them had a fair idea already!
Thanks goes out to the Pretoria crews and branch manager for their assistance, as well as the marketing department for the children's gifts. All in all it was a great success!
Vanessa Jackson
Medicopter Ground Support Unit
Johannesburg & Northern Region
ER24 EMS