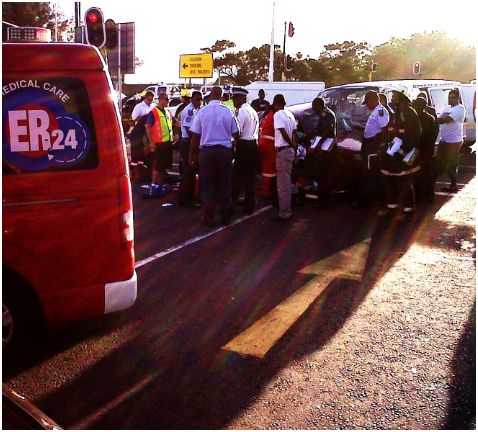 A Toyota Tazz was T-boned by a Toyota Hi-Ace Taxi on M4 at Stanger Road in Durban.
The Taxi, which was allegedly turning into Stanger road from Argyle road, t-boned the Tazz which was driving on Stager toward the M4.
The impact to the Tazz was so severe that the female passenger, in her fifties, was displaced from her passenger seat into the driver's compartment. She was entrapped in the mangled wreckage, and her multiple critical injuries were so severe that she was declared deceased on the scene by ER24 paramedics. The male driver of the Tazz, also in his fifties, is suspected to have several broken ribs, causing his lung to collapse. He was entubated by Advanced Life Support Paramedics on scene before being transported by road to the Inkosi Albert Luthuli Central Hospital.
It is believed that the taxi had five to eight occupants, who all reported minor injuries only.
The SAPS Flying Squad was on the scene to assess and take statements.
Vanessa Jackson
ER24