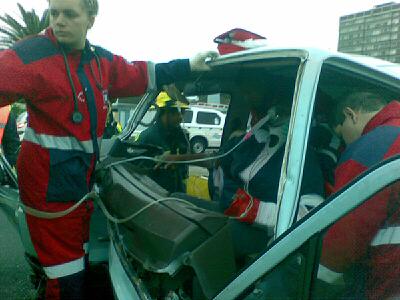 Twelve people were injured when a taxi crashed into the back of a truck on Koeberg Road, near Democracy Drive, in Milnerton.
The front passenger of the taxi was trapped in the vehicle and needed to be extricated by rescue crews from the Fire Department using hydraulic rescue equipment.
All the patients sustained minor to moderate injuries and were taken to Brooklyn Day Hospital and New Somerset Hospital for further medical care.
The cause of the collision is unknown. Table Bay Volunteers, Metro Rescue and Traffic Department were also in attendance.
Tristand Wadeley
ER24
[Photos by Greg Crumpton and Alan Tucker]